DA-600 Series (DA-650/645/640)
Benchtop Density/Specific Gravity Meter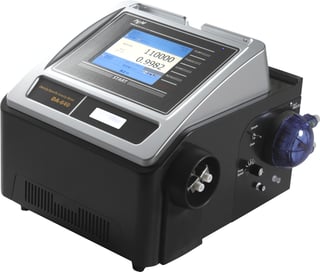 The DA-600 Series benchtop density/specific gravity meters comes in a variety of configurations to better suite different user needs. Each model including the DA-650, DA-645, or the DA-640, can come with or without viscosity correction or a sampling pump. Depending on the types of samples being tested or the environment the tests are being performed these instrument modifications can better match the users need.
What solutions are recommended to clean and dry the measuring cell?

| | | |
| --- | --- | --- |
| Sample | Rinse Solution 1 (To Clean) | Rinse Solution 2 (To Dry) |
| Petrochemical Product/Organic Substance | Toluene | Acetone |
| Soft Drink / Alcohol | Pure Water | Acetone or Ethanol |
| Protein Substance | Hypochlorus Acid | Pure Water or Ethanol |
Operational Accessories
Increase the performance as needed by attaching the auto clean and sampling Unit DCU-551N/H or fully automate and include the 30 sample (20mL) exchange unit CHD-502N.

JCSS-accredited Density Liquid Standards.
KEM is the only manufacturer of Density/Specific Gravity Meters that also produces density liquid standards.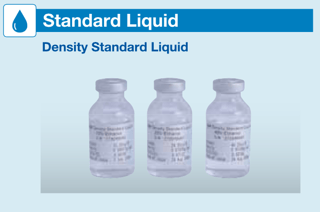 | | | | | |
| --- | --- | --- | --- | --- |
| Part name | Part # | g/cm3 at 20°C | mL/bottle | Remarks |
| Pure Water | 12-02708-01 | 0.99821 | 10 | 2 bottles/ set |
| Isooctane | 12-03288-01 | 0.691 | 10 | Pure water & Isooctane/1 btl ea |
| Dichlorotoluene | 12-03289-01 | 1.249 | 10 | Pure water & Dichlorotoluene/1 btl ea |
| Bromobenzene | 12-03290-01 | 1.494 | 10 | Water & Bromobenzene/1 btl ea |
| Part name | Part # | g/cm3 at 15°C | mL/bottle | Remarks |
| 5% ethanol | 12-03536-30 | 0.991 | 20 | 3 bottles/ set |
| 10% ethanol | 12-03536-31 | 0.985 | 20 | 3 bottles/ set |
| 15% ethanol | 12-03536-32 | 0.980 | 20 | 3 bottles/ set |
| 20% ethanol | 12-03536-33 | 0.975 | 20 | 3 bottles/ set |
DA-100 (3-place density meter)
Density/Specific Gravity Meter
The DA-100 Series benchtop density/specific gravity meter has a built-in thermostat to enable stable temperature control, where density/specific gravity can be measured quickly and precisely.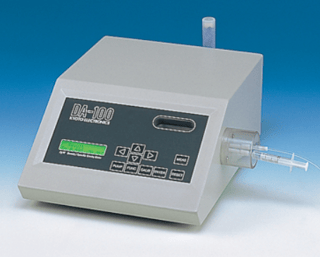 Accuracy of measurement is ±0.001g/cm3 by measuring resonant frequency.
Features
Temperature can be selected in the range from 15 deg. C to 40 deg. C by 0.1 deg. C step. Also setting in deg.F(59°F ~104°F, 1°F step)is available.
Can convert density/specific gravity to concentration value and display the result. Conversion Equation is linear and display is in 12 different units. It enables more efficient and effective routine measurement than conventional measurement with hydrometer for API degree. Baume degree and others.
Can output data of density, specific gravity, concentration values, date and time, etc through RS-232C and can be connected to an external computer or an optional printer. (External computer and printer cannot be connected at the same time.)
Parameter setting and operating is designed user-friendly, easy to use, being guided by dialogue message on display.
Purge pump is equipped as standard to desiccate the measuring cell.
Easy factor calibration of measuring cell can be performed using air and pure water. No complicated calculation is required.
Options
Auto Sampling Unit. The built-in sampling pump controls sampling, draining the sample, and rinsing and drying.
Printer
The DA-130N portable density/specific gravity meter is ideal for obtaining liquid property information on-site quickly.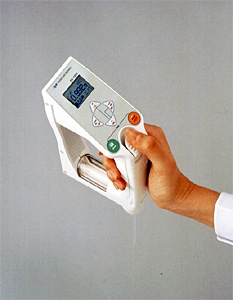 Typical applications include:
Density measurement of

crude oil,

fuel oil

and

lubricant oil.
Oscillation method is specified in

ASTM D 7777.
Density or

Brix

measurement of

various beverages such as

milk,

soft drink,

fruit drink, etc.
Measurement of

alcohol or extract concentration

of

beer,

whisky, wine, shochu

(

Japanese distilled alcohol

)

, Japanese sake

(

fermented

alcohol

)

, etc.

Measurement of Brix or constituent concentration of

food materials

for quality control purposes.
Density or

Specific Gravity measurement of

oils and fats

such as

vegetable oil, animal fat

and oil, etc.

Conforming to Japanese Pharmacopoeia.

Concentration check of

etching solution or

acid pickling solution for electronic parts.
Concentration check of

flux or plating solution.
Learn about

5 ways we use liquid density information.
Operation
Suctioning and draining can be done with your thumb and forefinger. Once you stop pressing, operation will stop. Measurement can easily be done with your thumb, enhancing efficiency of your work.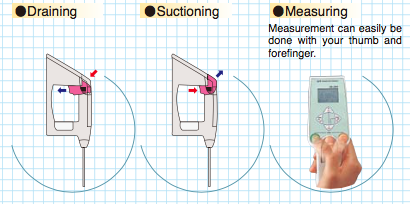 Features
Backlit display enables you to perform measurement in a dark place.

Clock function equipped.

ID code can be entered.

Sampling volume and speed

can easily be adjusted in one hand.

(

Patent No. 3330580

)

It does not matter which hand you use to operate.

Status of measuring

cell can be monitored even while measurement is going on.
Lightweight and

fatigue-free

design.

Capable of measuring samples

of up to 2,000mPa·s of viscosity.

Display Items : Density, temp-compensated density, SG, temp-compensated

SG, Brix%, alcohol concentration, sulfuric acid concentration, API degree, Baume degree, Plato degree, Proof degree, etc.
Graphic LCD shows

not only measurement results but also

temperature

(

° C/° F

)

, sample No., auto determination of oscillation

stability, auto save/auto output/deletion of data, battery level, etc.
Battery life doubled

compared with conventional model. Much longer

operating time.

Measurement time and operator name can be printed out.