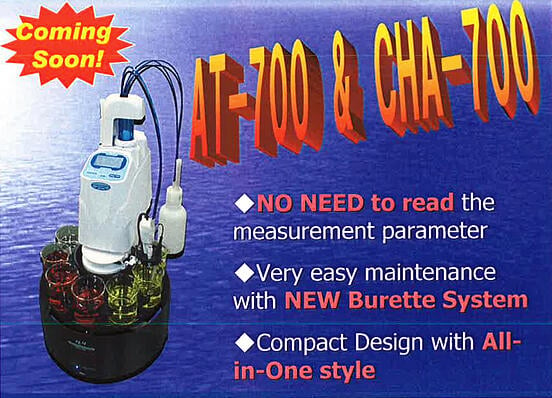 Here it is! The new AT-700 Potentiometric Titrator with integrated sample changer, CHA-700, is coming out soon. Manufactured by Kyoto Electronics Manufacturing (KEM) this will mark their 7th generation of industrial grade, high quality, titration instrumentation. We have not yet received all of the details on this amazing looking, newly designed potentiometric titrator but can tell you that it incorporates a carousel design sample changer that handles eight samples. From the photo you can see how the sample changer's compact design revolves around the Potentiometric Titrator. There are a few key design features on the new potentiometric titrator:
No need to read measurement parameters
New burette system
All-in-one compact design
We're told this new design will make significant improvements with the measurement of Mercaptans down to 1PPM (ASTMD3227,UOP163,IP272).
*Advantages include a special sealing cell and electrodes to avoid oxidization of mercaptan sulfer under atmospheric conditions.
*Application: Determination of mercaptan sulfer and hydrogen sulfide in fuels and liquid petroleum gases (LPG) is one of the important applications in petroleum and gas analysis.
We anticipate this newly designed Potentiometric Titrator will serve many other titration applications and provide operators with a compact yet fully automated functioning titrator.
As we receive more information on this new titration system we will let you know.