Most operators who measure moisture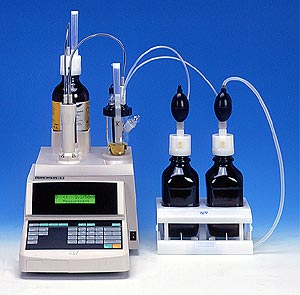 using a Volumetric Karl Fischer Titrator tend to have difficulty in 3 areas. Unlike Coulometric Karl Fischer Titrators where the equipment setup and reagents are fairly straight forward, Volumetric Karl Fischer Titrators differ greatly. Understanding how a Volumetric Karl Fischer Titrator differs and how the equipment functions is not only paramount in terms of knowing how to operate the instrument it is critical if you want to obtain accurate and repeatable results.
8 out of 10 questions we receive usually fall into one of these 3 problem areas:
What REAGENTS should I use for testing my samples? Titrants, Composites, Solvents?

"TITER VALUE" ..Who, What, Where, Why and How?

"SAMPLE SIZE" ..How much do I need or should I use?
Although these 3 areas at first may seem problematic and unrelated they are not. In this 9-minute presentation we will explain why the burette size matters, how to calculate a correct sample size and explain how the volumetric titrator reagent strengths work. Tying all three areas together will hopefully not only clear up some of the mysteries surrounding Volumetric Karl Fischer Titration but also empower operators with choices for conducting tests under varied conditions. And, oh yes, obtain accurate and repeatable results every time. Important note:1 ppm = 0.001 mg/g; 1 mg/g = 1000 ppm.